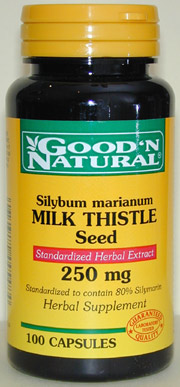 250 mg
Standardized Herbal Extract
Standardized to contain min. 80% Silymarin (200 mg)
We have developed a remarkable, unique herbal supplement by isolating the pharmacologically active constituents and concentrating them in an herbal extract. Our state-of-the-art scientific method combines modern science with nature's herbs to produce a biologically standardized product.
The same amount of active ingredient is delivered in each easy to swallow, 2-piece capsule. The potency is guaranteed because the herbal extract is consistently uniform.
Silymarin Milk Thistle extract is culled from the seeds of the thorny weed-like plant of the Compositae (Daisy) family. It is classified as a flavanolignin, which is a rare type of a bioflavonoid.
Milk Thistle helps maintain healthy liver function.
Each capsule contains:
Milk Thistle Seed Extract (Silybum marianum) 250 mg Standardized for a minimum of 80% Silymarin
DIRECTIONS:
Take one (1) capsule three times daily, preferably with meals. Do not exceed stated dose.
Ingredients:
Milk Thistle Seed Extract, Dicalcium Phosphate, Capsule Shell (Gelatine), Stabiliser (Microcrystalline Cellulose), Anti-Caking Agents (Silicon Dioxide, Magnesium Stearate).
Pregnant or lactating women should consult a doctor before using any product.
Caution:
If you are under medical supervision, please consult a doctor before use. Discontinue use and consult a doctor if adverse reactions occur.
NOT INTENDED FOR USE BY PERSONS UNDER THE AGE OF 18
Free from wheat, gluten, yeast, corn, soya, sugar, starch, lactose, salt, preservatives, artificial colours and flavourings.
 - From Good'N Natural